Greenbelt, Maryland: A Living Legacy of the New Deal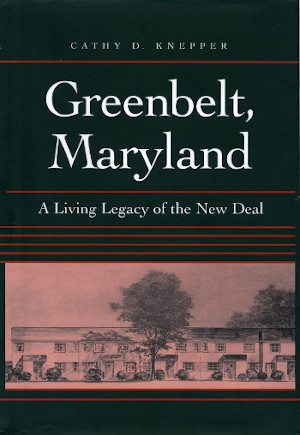 "The book is … as unique as its subject"
Built in the 1930s on worn-out tobacco land between Baltimore and Washington, D.C., the planned community of Greenbelt, Maryland, was designed to provide homes for low-income families as well as jobs for its builders. In keeping with the spirit of the New Deal, the physical design of the town contributed to cooperation among its residents, and the government further encouraged cooperation by helping residents form business cooperatives and social organizations.
In Greenbelt, Maryland, Cathy D. Knepper offers the first comprehensive look at this important social experiment. Knepper describes the origins of Greenbelt, the ideology of its founders, and their struggle to create a cooperative planned community in the capitalist United States. She tells how the town, saved at one point by the intervention of Eleanor Roosevelt, struggled through the McCarthy years, when it was branded "socialist" and even "communistic." In conclusion, she provides a timely analysis of those qualities that not only helped the town survive but also served as the model for currents in urban development that have once again come into vogue in such movements as the new urbanism and traditional neighborhood development.
Additional information: